160,000+ Satisfied Customers
and Counting…
160,000+ Satisfied Customers
and Counting…
$89 INSTALLATION SALE
AND FINANCING AS LOW AS 0%†
About Ultimate Gutter Guard
In 1967, Augusta, GA native Jim Felton formed his first company in the Southeast bringing a variety of new products aimed at easing and reducing the cost of traditional home remodeling. Because his earliest — and continuing — commitment was to quality and value, he soon expanded.
We're Part of the Southern Industries "Family"
Within a few years, he had grown from those first few-dozen customers to thousands annually. This year alone his home improvement companies will complete over 7,500 jobs in Augusta (GA), Aiken (SC), Birmingham (AL), Huntsville (AL), Greenville (SC), Knoxville (TN), Charlotte (NC), Chattanooga (TN), Atlanta (GA), Savannah (GA), Charleston (SC) and Columbia (SC) markets.
Over 240,000 Jobs for 160,000+ Households
All together these companies have completed over 240,000 jobs for over 160,000 households. This means that about half of all of our customers come back for additional work! That's really saying something when you consider that many of our products (such as sunrooms, whole-house siding, decks, roofs) are essentially one-time purchases!
The Ultimate Gutter Guard formula for a successful business includes more than just expansion and growth. Our success is due to the fine people who make up the company and it is firmly rooted in a commitment to product quality and customer satisfaction.
Quality Work and Reasonable Pricing Backed by Our Customer Satisfaction Guarantee
Since that first year, high quality work and reasonable prices have been the hallmark of all our Southern Industries companies. Every product and service is fully backed, and customer satisfaction is guaranteed.
It's been over 50 years since Jim Felton first began knocking on doors of home owners in the southeast. In those 50+ years his companies have proved themselves again and again. For over 50 years… you, the customer, have supported all the companies under the Southern Industries umbrella with referrals and repeat business.
Building Relationships That Last a LIFETIME…
As part of the Southern Industries family of companies, Ultimate Gutter Guard humbly thanks you for your past business and hopes to earn your trust for another 50 years. Like our motto says: "We build relationships that last a lifetime."
Check Out This Brief Message From Our Founder
Jim Felton, founder and CEO of Southern Industries
"I'm here today to personally guarantee you the very finest in quality materials, the best in craftsmanship and the very best in old-fashioned service."
Our Vision, Mission Statement, and MOST IMPORTANTLY… Our Values
Our Vision
"To be the most respected home improvement company known for its integrity, people, and dedication to providing an exceptional home improvement experience.  We will continue to grow providing siding, windows, gutters and baths to homeowners of the southeast by building relationships that last a lifetime."
Our Mission
"Providing homeowners a trusted partner in achieving their home improvement dreams and needs."
Our Values
Integrity: Do the right thing, even while no one is looking.
Conduct our business in accordance with the highest standards of professional behavior and ethics.
Be transparent and honest in all our interactions with employees, customers, and suppliers.
Be responsible for our actions with all that we encounter.
Do what we say we will do.
Respect: Treat everyone with respect and dignity.
Embrace each individual's unique talents and work styles.
Operate with a positive attitude and a spirit of cooperation.
Treat customers and employees the same way you would like to be treated.
Be responsive to questions and inquiries with courtesy and respect.
Allow others to share their opinions, and truly listen to what they are saying.
Caring: Genuinely care for others.
Exercise humility by humbly placing the needs of others first.
Listen with empathy to our customers' needs and be willing to respond appropriately.
Be compassionate by providing support for our employees and their families.
Partner with charitable organizations to help build and enhance our communities.
Excellence: Strive to be the best in all that we do.
Set the standard in service delivery.
Take deliberate action to achieve desired results.
Protect our reputation by continually exceeding people's expectations and giving our best efforts daily.
Discover new opportunities by keeping up with new products, services and innovative ideas.
Champion the training, development, and opportunity for promotion for all employees.
Success: Diligently protect the well-being of our company, employees and customers.
Foster long-lasting trusted relationships, with the focus on the future.
Achieve and sustain outstanding financial performance.
Work together as a team to achieve goals, and celebrate those accomplishments.
Show gratitude willingly by celebrating and recognizing both corporate and individual accomplishments.
Foster overall happiness by promoting a positive, safe, and healthy work environment for all to prosper.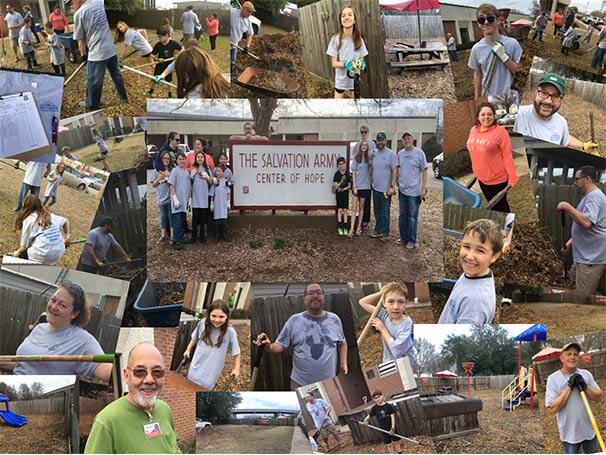 Putting Our Values Into Action…
WE LOVE GIVING BACK TO OUR COMMUNITY!
Supporting various organizations, such as the Salvation Army, Golden Harvest Food Bank, and Toys for Tots (to name a few) is not just what we do…
It's who we ARE.